As last summer, when I reviewed the year to June 2022, I shall share here in this longer read some data and reflections on the last year of my professional practice, and some insights and implications for my future practice and professional development. It is broadly a four-level ORID reflection again, of course (albeit long on the 'O').
In this past year to June 2023 I delivered 14 contracts for 12 clients. That compares with 19 contracts for 15 clients the year before and 32 for 22 the year before that.
This past year's contracts involved a total of 7 individual online sessions and 10 in-person & 3 hybrid events – in London, Oxford, Belfast, Brussels & Lille. That compares with 76 online and 2 in person last year to June 2022 and more than 100 online sessions and none in-person the year before that to June 2021, in the midst of the COVID pandemic.
So clients, contracts, sessions and events have all been markedly fewer this past year compared to the previous two, and contracts considerably fewer also than the 25 each year to June 2019 and to June 2020. I think that reflects my post-pandemic return to largely in-person events, albeit with a great deal less in-person preparation and follow-up, coupled with my post-pandemic choice to work less and more selectively and locally.
I resolved in January 2020 to restrict my travel mostly to places accessible to London without flying, and to try to travel less and work more online. While my work has now returned to more in person and with travel, and less online, I have not found myself tempted to fly and I have not found it difficult not to, so I am glad of that.  I am fortunate indeed to be located in London, close and accessible to so many client opportunities.
I was not sub-contracted to colleagues for any contracts this year, but for three contracts I sub-contracted to or licensed one or more colleagues myself. That compares to one & nine last year and 10 & 19 the year before. So my return to more working in-person and with travel has been associated with more working solo again, and less as one of a team, which I do not find surprising. While I was delighted to be able to work more collaboratively when I was working largely online, I have not much missed that this past year of working more in person, so I am glad of that too.
Partners that I have contracted with this past year included again ICA:UK colleagues Megan Evans and Orla Cronin. I have otherwise collaborated also with others of the ICA:UK team and with IAF and other colleagues – some mentioned below.
Clients I have worked with have again included UK charities and international NGOs and devolved government, plus this year both UK and European professional and trade associations and multi-sector partnerships.
Of this past year's contracts, 10 involved facilitation while 3 involved training and one involved coaching and consulting. That compares to 7 facilitation, 7 training and 6 coaching & consulting the year before, and 11, 18 and 7 the year before that.  So the proportion of facilitation to training, coaching and consulting this year has been significantly higher than in recent years, both mid- and pre-pandemic. Perhaps that reflects the renewed appetite that many groups seem to have had to meet again in person this past year, coupled with the tightened budgets for training and development that many have had to contend with, at least in the UK.
Facilitation contracts this past year have ranged in scale from a single half-day or one-day workshop at relatively short notice to 3 days over one or two events, collaboratively designed and prepared over several months:
Amanda Penn, Senior Partnerships Manager at IDH, The Sustainable Trade Initiative
"The top 9 UK retailers launched a living wage commitment in March. On numerous occasions the CSR managers who attended the workshop you led credited that day with being a pivotal moment in the process and paving the way for the ultimate result. So, thank you!" 
Training contracts this past year have ranged in scale from a single introductory session for one group, to multiple sessions for multiple groups:
As in the previous year, I chose to offer no scheduled public ToP facilitation training myself this past year, and instead invited participants to register with ICA:UK or another ICA worldwide.
As ICA:UK undertakes an organisational restructure this summer, and prepares to license Associates to offer UK public ToP training instead of offering them itself, I have been working with Trustees and other Associates to develop this new operating model and to offer my own scheduled public ToP facilitation training again in London – watch this space!
Coaching and consulting contracts this past year comprised just one contract of two online sessions and one in person:
with the Ethical Tea Partnership, consulting support for the design and preparation of a hybrid multi-stakeholder dialogue on gender in the global tea sector involving around 70 in London and online.
I also continued to offer free facilitation coaching throughout the year, more or less formally supporting eight mostly young people during the year in their work for climate justice, gender equity or anti-racism.
For IAF, I continued to serve as a volunteer mentor in the IAF mentoring programme, working again with two mentees in parallel this past year.
Siew Onn Wan, Mindset Coach

"With the help of mentor Martin, I have made significant progress in facilitation mastery and business development. To my surprise, he helps me to see new possibilities when I hesitate to take action. I also learn much from mentor Martin on inner work as a helping professional. Greatly appreciate my mentor's questions and nudges in the journey of professional development as a process facilitator. Here are some details on the IAF mentoring program."
For the Power of Facilitation, I continued to work with fellow contributors to promote the book, including with colleagues of IAF France in their Facilitation Week session in October, LUNCH LAB "the Power of Facilitation".
I also continued throughout the year to support more than 80 IAF colleagues around the world to work to translate the book into more than a dozen languages. The first translated edition was launched in November, simplified Chinese. Another three are preparing to launch during Facilitation Week 2023 next week, Japanese, Portuguese and Spanish.
For SessionLab's first comprehensive survey on the state of facilitation, 2023 edition, I was pleased to have the opportunity to share some reflections in the Resources & Communities section on How do (ToP) facilitators keep learning?  It is a comprehensive survey indeed, rich with insight and with much food for thought for all of us who are seeking to promote the power of facilitation worldwide.
My free facilitation webinars this year comprised two sessions, both exploring feminist facilitation. The first in January was part of the ICA:UK Online Focused Conversation Series, and attracted around 30 participants.
The second in May was in partnership with IAF Social Inclusion Facilitators and We Are Feminist Leaders as well as ICA:UK. This session attracted 208 participants to share their experience and insights, and no less than 717 who expressed an interest by registering for the session.  So we were very excited that the topic and the session generated so much interest.
We met several times since May to consider how we might continue to collaborate together on our own learning journeys, and also to challenge and support others to make their facilitation practice more feminist and their feminist practice more facilitative. We have scheduled a further session for Facilitation Week 2023, on Monday 11 September, so do join us then to connect, share & learn.
I expect the questions raised by all of these sessions to remain a key focus for my own professional development this coming year:
"What does feminism bring to facilitation, and what does feminist facilitation look like? How can I ensure that my own practice as a professional facilitator is more effectively and explicitly feminist, anti-racist and anti-oppressive? How can I ensure that my own practice as a professional facilitator is more effectively and explicitly feminist, anti-racist and anti-oppressive?"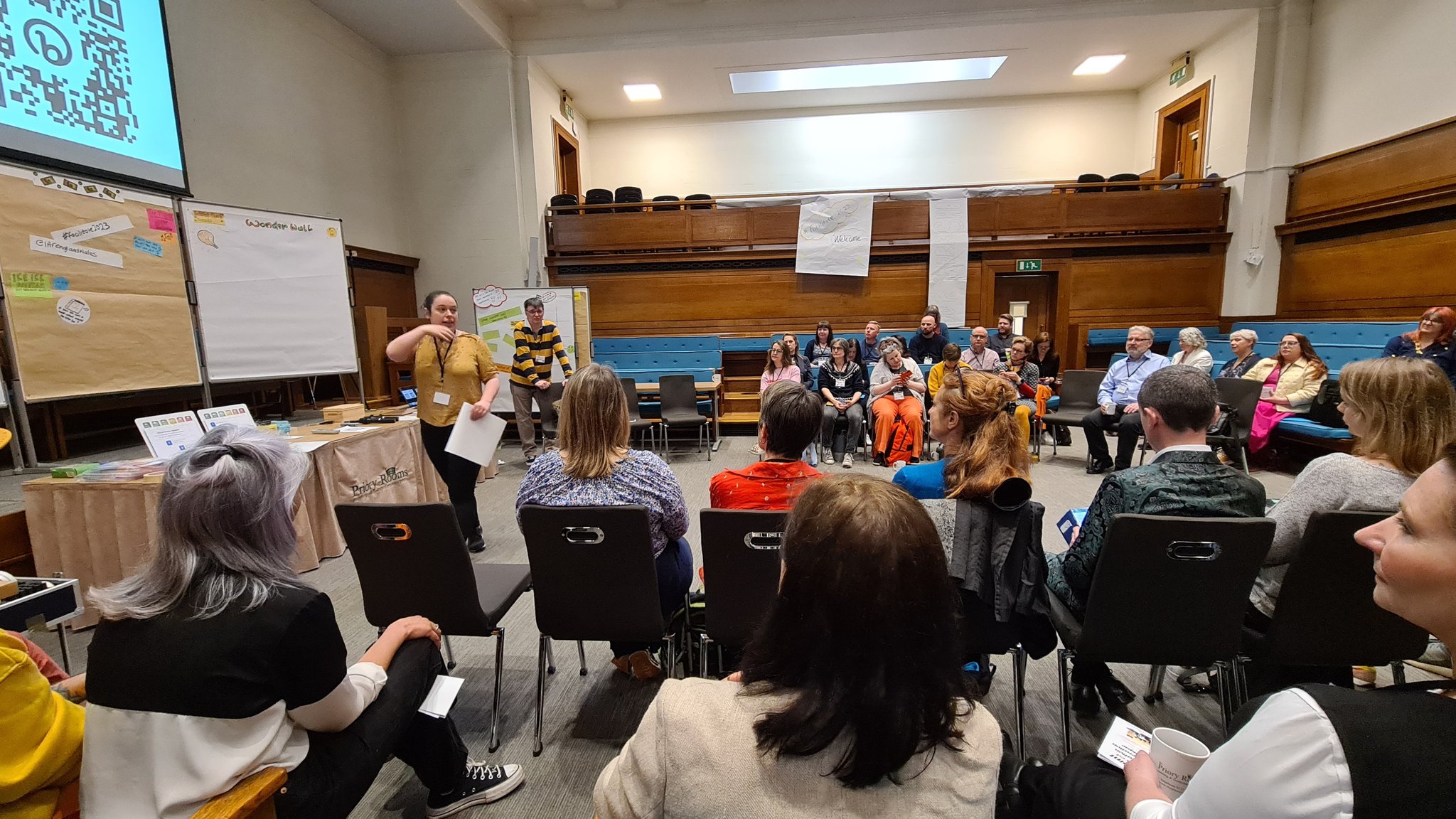 In my own professional development I have continued to value the professional community and facilitation meetups of IAF England & Wales, and particularly this year's in-person conference in Birmingham in April, titled #Facilitate2023: Celebrating and sharing the diversity of facilitation.
It was a richly diverse group and a richly diverse programme, featuring numerous sessions focusing on aspects of diversity, inclusivity and lived experience including dyslexia & neurodiversity, power dynamics & protected characteristics and language. Having not attended an in-person conference since 2019, and having stood down as chapter Chair in 2020, I was as excited by the number of new faces, and the youth and diversity of many of them, as I was by the programme.
In my volunteering for the Gay Outdoor Club, I stepped up in October from my marketing & social media and Online Group Co-ordinator roles to join the GOC Board as Trustee and Website & IT manager as well.  While I do not regard myself as a specialist in websites & IT any more than in marketing & social media, and I did not join GOC to work on those at my computer screen any more than I did to host online socials, I have enjoyed being able to apply some of my professional skills and experience to a club that I and others have derived so much value from, and to find them valuable and valued.
Being supported by the professional web developer who built the GOC site, my new role is in fact as much if not more about member engagement than it is about the website and IT, and I have approached the role on that basis. A GOC website & IT user feedback survey in January provided invaluable feedback and suggestions for numerous incremental improvements thereafter to the functionality and ease of use of the website, as did a GOC website design refresh & branding survey in July to inform a refreshed GOC branding and design and also a new strategic plan for the club.
Drawing on 5 years of experience of hosting meetups for IAF England & Wales, I have introduced a new GOC Meetup group to attract new members there, and drawing on the IAF England & Wales conference in Birmingham in April, I have been able to recommend consultants to provide training and support as part of GOC's Inclusion and Diversity strategy.  I was interested to take a Stonewall training workshop with other GOC members as part of that as well, and find that to contribute helpfully to my own professional development. I am looking forward to supporting the club further next year in all of those areas, as we celebrate our 50th anniversary in 2024.
Thank you for following. If you don't find me online, or in facilitation, training and consulting, you might find me outdoors!
---
See also about me, how I work, who I work with and recommendations & case studies, and please contact me about how we might work together.